The Rhone Valley was the result of an epic geological clash between the Massif Central (Middle of Southern France) and the Alps (South East), creating a rift valley which was flooded by the Mediterranean. Three hundred million years ago, volcanic activity in the Massif Central produced the granitic rocks of the Northern Rhône. Smaller than the Southern Rhône, the Northern Rhône valley experiences a cooler climate, and the vineyards are planted on complex stony soil, producing wines that are highly distinctive and fine.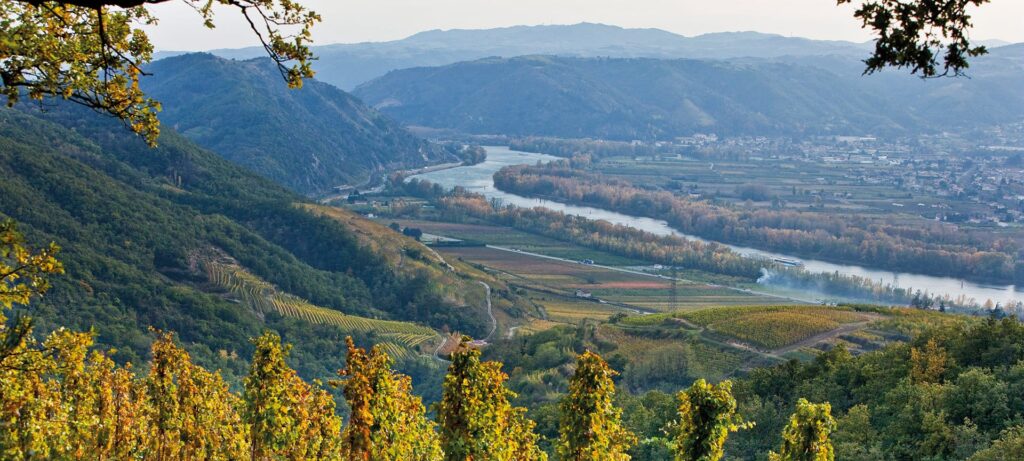 photo credits:
Photothèque Inter Rhône (Marc Barthélémy, Christophe Grilhé, Lionel Moulet, Jérôme Ubassy, Alain Reynaud, Sébastien Voerman)

First of all, let's talk about the grapes
SYRAH
This is the only red grape found in Northern Rhône. Low-yielding variety, rare, deep in color, spicy in character and with intense berry-smoky-peppery flavor, it produces wines that are both stylish and complex. For a long time it was believed Syrah was originated from Persia, Syria, or Syracuse, however recent analyses have shown the grape was first cultivated in Southeastern France, in Savoy and the Ardèche departments.
WHITE GRAPES
Viognier, Marsanne and Roussane grapes are used in single grape or blends, and they can even be lightly blended with Syrah to add complexity (this is quite common in Côte-Rôtie appellation). Although these grapes have different profiles in term of aromas and structure, they are considered more fat and rich than average and are therefore very interesting for food pairing.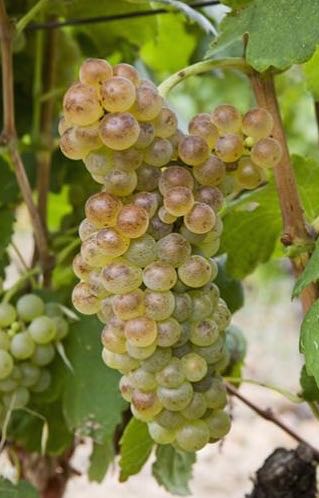 It produces wines of great elegance, stylish and complex, developing distinctive floral notes like honeysuckle, iris.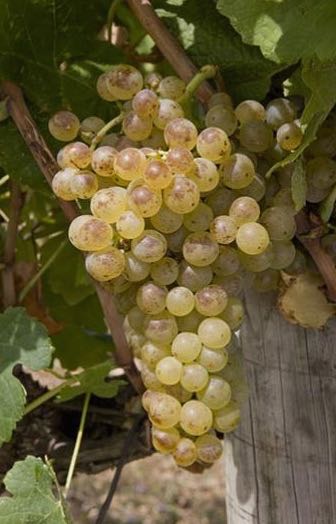 It produces powerful wines, of medium acidity. As the wine ages, it develops distinctive floral and hazelnut flavours.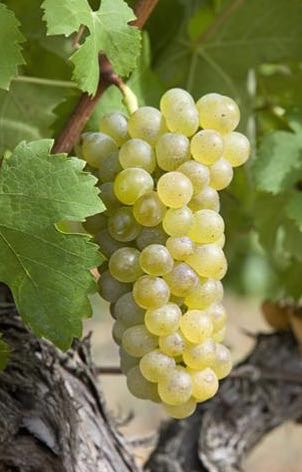 It produces exotic and full body white wines with spicy and lingering flavours and delicious notes of yellow fruits, spring flowers, musk, grilled hazelnuts and almonds.
Now let's have a look at some of the famous appellations:
FROM NORTH TO SOUTH, ALL THE AOC's:


Côte-Rôtie
Condrieu
Château-Grillet
Saint-Joseph
Hermitage
Crozes-Hermitage
Cornas
Saint Péray

Côte Rôtie
Côte Rôtie or "roasted slope" is one of the most important French appellations for Syrah (alongside Hermitage and Cornas).
They wines are bold yet precise with fine-grained tannins. The vineyard's position on steep southern-facing slopes that protect from northern winds.
The soils producing the boldest wines are clay-based with decomposing schist and mica, primarily in the center and north of the appellation.
In the center and south, you'll find more sandy-granite soils producing more floral aromatics.

Condrieu
The largest white wine appellation in the Northern Rhône produces rich, opulent wines made with 100% Viognier.
The vineyards themselves are on narrow, steep terraces with the first villages to be included in the appellation (Condrieu, Vérin, and Saint Michel) in the northernmost part of the region.
Saint-Joseph
Some of the best values of the Northern Rhône exist along this 30-mile stretch that is Saint-Joseph.
The wines of St.-Joseph range in taste from spicy flavors of black olive and black pepper to richer, more complex wines similar to those found in Côte Rôtie (see tasting description above!).
There's also a slow change of soils from the northernmost part of the appellation to the south.
In the north, there are many of the same clay-granite soils.
Meanwhile, in the southern part of Saint-Joseph, there are more thin soils of marl (clay + lime) and acidic granite. These wines tend to get a bit spicier and fresher as well as more floral.The white wines from the region are also very insteresting, they often have a quite a rich, bold aroma.

Crozes-Hermitage
The largest appellation in the Northern Rhône.
The major difference you'll see here is in tartness due to Crozes-Hermitage's position on the East bank of the river.
Many vineyards in the region are on pebble-covered terraces with granite-clay soils with a blend of sand (sand usually bumps up the floral aromatics and also seems to lighten the color).